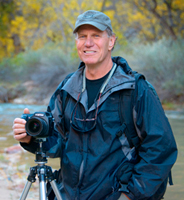 • Artist's Philosophy •
The landscapes of the southwest challenge me to create images that avoid reducing the scenery to a cliché or a postcard picture.
Working in and around Zion, Bryce, Grand Canyon, and Grand Staircase-Escalante has shaped my artistic philosophy. I've come to believe that the camera simply cannot accommodate the scale and magnificence of the landscape, so I aim to create a more intimate view and capture those fleeting moments that give the land its spiritual quality.

In short, I am seeking the essential landscapes. I love to work with the more abstract elements in the natural world, to focus on the subtle aspects of a particular landscape, instead of the purely representational "big picture." This is where I find the fundamental nature of a place.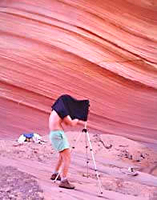 While the southwest is wonderfully colorful, it is also full of marvelous textures and patterns. Millions of years of upheaval and erosion have left a variety of shapes and textures. I like to explore these natural compositions as well as the grand vistas.
When all is said and done, if my images touch a viewer,
draw him or her back for a second look to pause and contemplate,
I believe I have been successful.